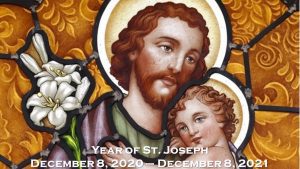 Pope Francis announced a Year of St. Joseph Tuesday in honor of the 150th anniversary of the saint's proclamation as patron of the universal Church.
The year begins Dec. 8, 2020, and concludes on Dec. 8, 2021, according to a decree authorized by the pope.
The decree said that Pope Francis had established a Year of St. Joseph so that "every member of the faithful, following his example, may strengthen their life of faith daily in the complete fulfillment of God's will."
It added that the pope had granted special indulgences to mark the year.
The Dec. 8 decree was issued by the Apostolic Penitentiary, the dicastery of the Roman Curia that oversees indulgences, and signed by the Major Penitentiary, Cardinal Mauro Piacenza, and the Regent, Msgr. Krzysztof Nykiel.
In addition to the decree, Francis issued an apostolic letter Tuesday dedicated to the foster father of Jesus.
Year of St. Joseph Resources
St. Mary of Lourdes has a dedicated page for the Year of St. Joseph where you will find resources, prayers and details for events that will be held throughout this year. Click here to be taken to the Year of St. Joseph page.