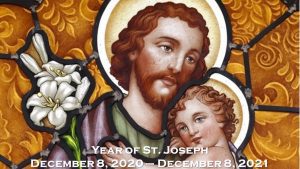 Pope Francis announced a Year of St. Joseph Tuesday in honor of the 150th anniversary of the saint's proclamation as patron of the universal Church. 
The year begins Dec. 8, 2020, and concludes on Dec. 8, 2021, according to a decree authorized by the pope. 
The decree said that Pope Francis had established a Year of St. Joseph so that "every member of the faithful, following his example, may strengthen their life of faith daily in the complete fulfillment of God's will." It added that the pope had granted special indulgences to mark the year. In addition to the decree, Francis issued an apostolic letter December 8, 2020 dedicated to the foster father of Jesus. 
Throughout the year we want to honor St. Joseph as the guardian and protector of the Church and her faithful with heartfelt prayer and devotion, encouraging all to take his virtuous life as our model for fulfilling our personal vocation to holiness.
This page will be devoted to the Year of St. Joseph. Here you will find educational resources, prayers and devotions, and Year of St. Joseph event details for our parish, as dates are finalized.
Why Honor St. Joseph
How to Celebrate
St. Joseph Consecration
Parish Events
Devotions