Bible Studies
At St. Mary of Lourdes, we offer a Bible Study on Wednesday mornings and Wednesday evenings both in the Fall and again in the Winter/early Spring. The studies help the participants delve into and reflect on the Scripture within their own lives. Each session incorporates discussion and usually a DVD presentation. Parishioners from surrounding parishes are invited to participate.
Upcoming Bible Studies
No Greater Love Bible Study – March 9, 2022 – April 6, 2022
Meets Wednesday morning (9am – 10:15am) or Wednesday evening (6:30pm – 7:45pm)
For registration information, click here.
Registrations are due by February 27 to ensure the arrival of the needed study materials.
For more information, please contact Ileen Grebner, Director of Faith Formation, by calling 309-383-4460 or submitting your information below (see How Do I Find Out More Information?).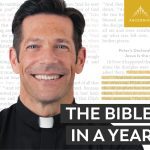 In The Bible in a Year podcast, Fr. Mike Schmitz walks you through the entire Bible in 365 episodes, providing commentary, reflection, and prayer along the way.
Unlike any other Bible podcast, Ascension's Bible in a Year podcast follows a reading plan inspired by The Great Adventure Bible Timeline, a ground-breaking approach to understanding salvation history developed by renowned Catholic Bible scholar Jeff Cavins. For each period in the timeline, Jeff will join Fr. Mike for a special episode that will help you understand the context of each reading.
With this podcast, you won't just read the Bible in a year … you'll finally understand how all the pieces of the Bible fit together to tell an amazing story that continues in your life today!
Listen and…
Read the ENTIRE Bible
Feel more confident about your understanding of Scripture
Experience the transformative power of God's Word in your daily life
Start seeing the world through the lens of Scripture
Please note: The Bible contains adult themes that may not be suitable for children – parental discretion is advised.
Each 20-25 minute episode includes:
Two to three scripture readings
A reflection from Fr. Mike Schmitz
A guided prayer to help you hear God's voice in his Word
Where can I find Fr. Mike's Podcasts?
Follow this link and you will be directed to where you can listen directly online or find this free podcast through your favorite app.
Lenten Soup Suppers
During the Season of Lent, we host a Lenten Soup Supper and Speaker Series. This series is held on the Monday's of Lent (minus the Monday of Holy Week) and features a speaker who takes us on a reflective Lenten journey. The talks may center on the readings for the year or on the themes of Lent but they provide an opportunity for parishioners to enrich their Lenten experience and come together in community with each other.
Each evening begins with prayer at 6pm, followed by the Soup Supper. The speaker is introduced around 6:30pm and each evening ends around 7:30pm.
Formed
Please accept a gift from our parish to your home,
a subscription to an incredible new online platform . . . formed.org.
With FORMED, you can…
Prepare for Sunday Mass by watching an insightful five-minute video by renowned Catholic teachers.
Enjoy a movie with your family that is both nourishing and entertaining
Enrich your marriage with the award winning video series Beloved: Finding Happiness in Marriage
Help your children grow in character and embrace the beauty and wonder of the Faith
FORMED . . . amazing content, available 24/7, to explore, inspire, and grow in your faith!
It's easy to get started!
Go to formed.org
Click on Register
Create your FREE account by registering under our parish, St. Mary of Lourdes, or by using the parish code below.
Our Parish Code is: 65e7c0 (that is a zero on the end)
Please enjoy the FREE subscription to FORMED.org.
What is Formed?
Formed Resources
How do I find out more information?
For more information or would like to help out with our Lenten Soup Suppers, please contact:
Ileen Grebner, Director of Faith Formation at 309-383-4460 or by completing the form below.